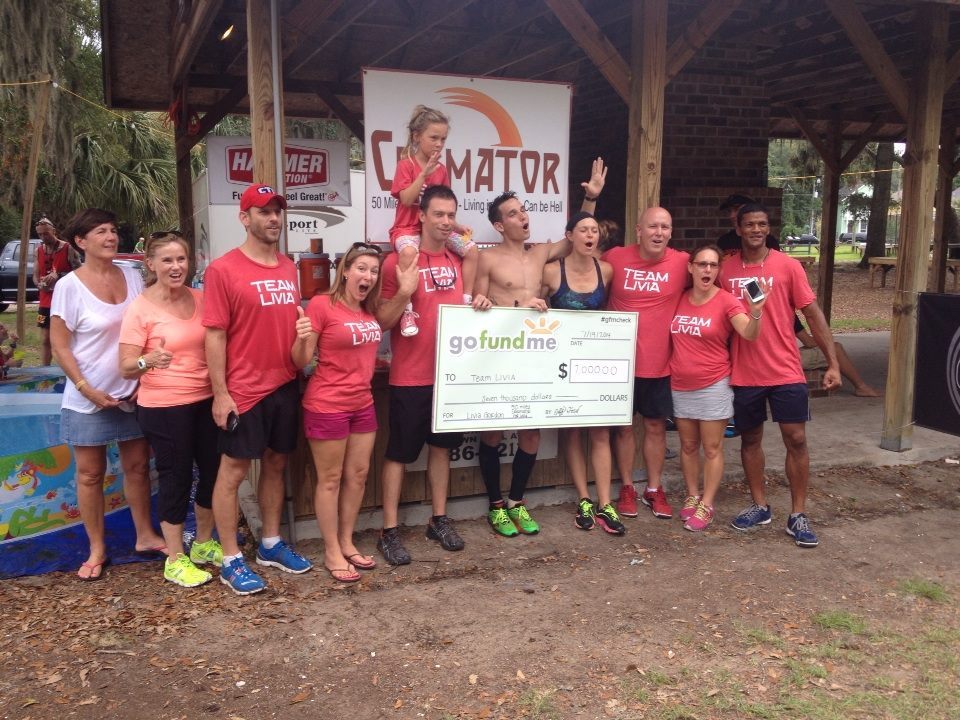 Now two weeks later, I'm finally getting around to writing about my first (and potentially last) fifty mile run. I think I've waited so long because it's taken a great deal of time to process the day and I didn't want to screw this post up. Running fifty miles, raising over seven thousand dollars, and finding out just how amazing the people around me happen to be takes time to fully understand. Putting this day and experience into words won't give it justice (I know everyone says that), but in this case I'm just being honest. I'm also going to give it my best shot so here goes.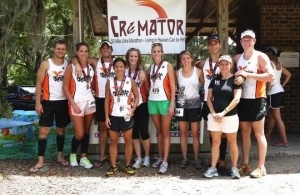 About two years ago, I participated in my first Cremator, but as part of a relay team. Back then the race was held on Hilton Head Island and there was an option to do it as a four-person team or the entire fifty miles solo. On that day, members of our team each ran close to eighteen miles with generous breaks in between. I loved every minute of it and if you spoke with Craig he'd tell you just how excited I was before each of my assigned legs. I actually think annoying might be a better word to describe my actions, but go ahead and ask him. The following year the race was moved to Beaufort and yet again I gathered up a team from CTF. Battling the heat and participating in an event like this one with a team was incredible, yet I always thought to myself what if I were to take on this race one day solo? I would need a good reason. This is where you're probably wondering how and why I finally made the decision to run fifty miles.
Running fifty miles sounds absurd, but when you look at the bigger picture its just another way I've being able to live the life of my dream. It should always be about the bigger picture. If you don't know a lot about CTF, we actually have a pretty simple yet specific philosophy. We exist to educate and empower the people who walk thru our doors to live the life of their dreams even when they don't think they can. We may be a fitness facility, but it's what our athletes learn within our walls that's of more importance. Come to a regular class and you'll hear the phrase "I Can" a minimum of five times along with other positive mantras. I believe that without knowing and understanding the CTF philosophy, I would have never had taken on this challenge. Along those same lines, I would have never have quit my salaried job to become a full time coach or entered into an incredible relationship with Lindsay. Above all, I would have never found balance in my life. That's right, huge changes have happened since my very first Cremator.
Now you may be asking, how is running fifty miles living the life of your dream? Well for me, it's actually right on point. At my best, I will be fit, strong, and healthy enough to contend in Ironman distance triathlons. I will be among the highest role models in nutrition, fitness and self. I will have a balanced work life scenario and not feel overwhelmed. I will be at this best self so that I can inspire, motivate and positively impact the lives of the people around me. This has been my dream and my vision statement that's evolved year after year and guided me to this point in my life. I have a tattoo on my left shoulder that symbolizes strength and health and below it is the word inspire. After completing the fifty miler on July 19th, I could truly look at this tattoo and know in my heart that I was living up to these expectations. I can't tell you enough how good that feels when you know you're following, living and executing your dream. Maybe you already know.
To talk a little bit about the race, and it to give it some justice, it was absolutely incredible. This training block was surrounded by a lot of adversity due to squeezing in training sessions around an extremely intensive work schedule (that I love) and dealing with an unexpected ankle roll three weeks out from the race. The toughest thing we find for a lot of athletes is dealing with having enough time to train, nagging injuries and proper recovery. In this case, it was an acute injury the best of its kind. Injuries that come about over time without the incidence of an accident can be tough to figure out so at least I had that going for me. All that was needed included rest, mobility work and intelligence to not train thru it. Three weeks out from your first fifty is probably the worst time to have to cut off all running, but that's what I did. I'd had a similar experience way back in my mileage days dealing with an injury before the New Hampshire marathon. Completing that race and hitting a PR coming in firth place overall gave me confidence to simply lay low and recover for race day.
Getting to the start line at 530am that morning, I was greeted by Kevin Purvis a professional trainer who owns his own studio on Hilton Head Island. He was also running that day. It was comforting to speak with him before the race (as this dude is quite an experienced ultra runner) and he actually checked in on how my ankle was doing while offering some Aleve for the journey. From start to finish Kevin's actions really stuck out with me. I wasn't sure what to expect with my ankle compressed up and taped (which I am totally against, but in this case made sense), but the first ten miles were smooth as could be. I was running with the second pack of runners at about 8:15 pace per mile feeling good and discussing training with the other runners. One guy said his furthest training run was forty miles, while I informed him that mine was merely ten. This race wasn't about how I had trained for it (which you'll certainly hear more about later), yet the race was about going distance for Livia, uncovering just how valuable the CTF community is and realizing that I am living the life of my dream.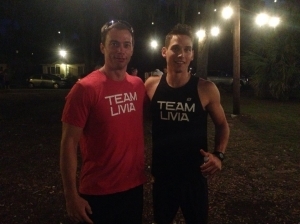 As I finished up the first twenty-five miles everything was all good. Surely, my left ankle wasn't feeling amazing, nor were my legs, but I felt like I was certainly holding form and keeping proper hydration. At the turn around, Salvador had shown up (one of our CTF athletes) and I couldn't tell you how good it felt to see a new face. Sal had taken the day off from work just to see me bust out this race. He remained there for the entire second half and as I continued to progress on the course more people from the CTF community started showing up. About every two to three miles, my crew chiefs Lindsay and Craig were waiting. Craig doesn't fuck around when he's crew chiefing and coupled with Lindsay's smile and her running with me for over fifteen miles, I felt like I was in good hands all day long. What meant so much to me is this was probably the first time Craig, (my coach and mentor) had actually seen me race. As athletes, whether we think about it or not it feels good to perform in front of your Coach. I was pumped to have the opportunity. Lindsay said that late in the day he was ready for it to be over. Not that the day was dragging on, but the mere fact that he was worried for me and just wanted things wrap up smooth. I hope all our CTF athletes truly understand how much this guy really does care. I did on this day.
At about mile thirty, I got my first glimpse of Phillip Stringer, an up and coming Coach at CTF whose mental toughness is the strongest I've ever come across. He's the guy that if you pick one person to spend thirty minutes with just to talk about life he'd be the one. Also, this is a dude who is not a huge fan of running so it was cool to have him out there seeing what I was up to. I don't think Phil knew it, but when I saw him I got pretty emotional. It was at a point during the second loop where I really needed it. I pretty much had this same reaction for every CTF face that would continue to pop up throughout the second loop of the course. At mile thirty-seven and a half, the final checkpoint, I think I was quoted saying "this shit is no joke." It certainly wasn't and having Lindsay jump back in at this point was huge. My pace was now closer to 9:45 per mile and my legs were just starting to feel wonderful. Wouldn't you know that at the turn around Kevin was also there to check in on me and see how I was doing. His day didn't go according to plan, yet he was kind enough to come back out and route me on, plus provide a cooling towel. This guy's support is something I'll never forget and proves a lot about his character.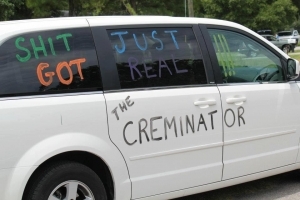 The final miles were by no means easy, but I continued to run the whole way only stopping to walk and refuel when I saw my crew team. Yes, it was now a full-fledged team. At this point, Mary, Dayna, Frankie, Dan, Lindsay and Suzan had all jumped in and with still close to ten miles to go, it was much needed to have them all out there; more than they'll ever understand. As I've discussed, the biggest realization from running in the Cremator is that I am in fact living the life of my dream. The whole day in my head I was wondering what people were thinking. Not like hey are people watching me, but more do you think this will motivate them to take on their own challenge? To live their dream? I love encouraging someone to take on something they think they can't do and it's a big reason of why I tackle these events. Showing athletes and people that you truly can achieve whatever you want is the perspective I want to instill. It just takes a plan, the right motivation, day in and day out dedication as well as an incredible support team around you. That was the second huge realization; WOW the people at CTF and in my life are amazing. Not that I didn't know it before, but to this extent? I couldn't have ever envisioned the support I received on that day. I don't think any of us really understand how much the people around us care. Our lives get bus, we forget. This day definitely reined me in.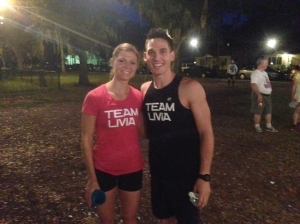 The home stretch included running over the bridge one last time and I was stoked to have Lindsay with me on the two remaining miles. At this point I was over it, still smiling and staying positive I was ready to be done. As I approached the finally eight hundred meters, Suzan and Lindsay Bunting were there rooting me on. It was the perfect conclusion to give me a little kick to get back to the park where the kiddie pool awaited. These are two ladies who I have the privilege of coaching out on the streets both of whom have come so far in their journeys. Charging to the line, everyone was cheering, which made me feel like a rock star even more so than Ironman. About thirty seconds after finishing, I was able to dive right into the kiddie pool with a sense of relief, accomplishment and thanks. A huge thanks to people who were with me that day and to the masses who donated towards Livia's surgery. We brought the big check out and as I signed off my name at the bottom and saw the number above I was in utter disbelief. Unable to really put any food down and stomach in knots, I thought to myself how could this day have been any more perfect? It couldn't have been.
Finishing at goal time in eight hours good for seventh overall, a support crew of over ten people looking phenomenal in Team Livia shirts, raising over seven thousand dollars and uncovering that I truly am living the life of my dream with incredible people around me. There was nothing else to say. This was a PR.
In the weeks after the race, I've received praise, gratitude and shock that I completed the fifty mile Cremator run. I can't say I'll ever go after such a feat again, but what I can say is that I'll continue to look for opportunities to inspire. What you can take from this experience is not that I ran fifty miles in eight hours on less than fifteen miles a week of training (even though that's a pretty good story in itself), but I followed a plan, overcame adversity and had a whole lot of purpose behind the actual goal. The support of an incredible team is essential to your success and during this experience it was the glue that will really make this day stick.
I'm off now to finish writing over fifty thank you notes, but before I do let me ask you this…
What is your dream? Are you living it?