by Craig Hysell
"Give back." -RET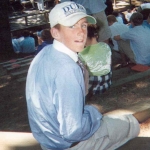 RET (Richard E. Thomas III) was diagnosed with Ewing's Sarcoma when he was 14. He was 15 when he died in April of 2000. Before he passed away, he asked his family to give back in his name.
CTF has been helping The RET Thomas Pediatric Cancer Foundation assist children (and their families) affected by pediatric cancer since 2010 by organizing the WOD for RET every Labor Day Weekend.
Of all the many events that CTF puts on, this one is the most special. Something happens during this one that is unexplainable, it's, well… magical. You have to do it to feel it. Maybe it's the cause or the course. Maybe it's the incredible nature of the Thomas family. Maybe RET is there. Who knows? All I know is, it is something many of us look forward to each year on a very deep and meaningful scale.
Here are 5 things you can do to prepare, so that Saturday will be as epic as you can make it:
1. Sign up. It goes without saying. But every year we have people that cannot participate with their friends because they forgot to sign up and the Heat Schedule is maxed out. We try to be as accommodating as we can, but we need to know ahead of time if you're coming or not. Don't wait until the last minute! Sign up today!
2. Assess Yourself Honestly: Anybody can do this! That means YOU too! We have three levels for the workout. If you don't want to add the workout, you can run the 5k. If you don't want to run the 5k, you can walk it! What do you want to do? Come out and enjoy an amazing morning fundraising event on your terms.
If you do decide to do the workout (WOD), nobody at CTF cares if you do "RX'd" or not. We hope you don't care either. Our goal is to make sure you are safe, you have fun and you honor RET's legacy by doing your movements with solid, safe technique and for 15 reps. (One year for each year RET was alive.) Sign up for the right Skill Level. Remember, changing at the last minute may be difficult to accommodate due to full Heat Schedules.
3. Remember Why You Are Doing This: Do that, and it's an easy day.

4. Follow The Program: At CTF our program over the 3 weeks leading up to the event is geared toward getting you primed and ready for the WOD for RET. Do what is written. Don't add any extras. You get better in recovery, you break yourself down in training. We will break you down, you make sure you're getting enough food and rest to get better!
If you need to work on your running we suggest this schedule: Monday, Tuesday, Wednesday, Friday, Saturday. Take Thursdays and Sundays as rest days.
If you need to work on your strength, we suggest this schedule: Monday, Tuesday, Thursday, Friday, Saturday. Take Wednesdays and Sundays as rest days.
Again, assess yourself honestly, determine where you need MORE of a focus, sign up for the right scaling option and things will be uh-maze-ing. If you're not sure, email me personally and I will help you, any of you, no matter where you are from or what you need: craig@crossfithiltonhead.com
5. Have Fun: Have fun with your friends. Have fun exercising with one another and cheering one another on. Have fun enjoying life on a beautiful run through Mother Nature. Have fun contributing to the cause and in RET's name. Hug MAMA T (RET'S mom), she will be forever grateful. Know that what you do will make some child's life a little more manageable during a time that no child should ever have to experience. Grab a beer from the keg with your friends (new and old) and toast a cup to RET, he will love it. Be open to the magic. It's always there. Year after year.
Sign up! See you out there on Labor Day weekend!