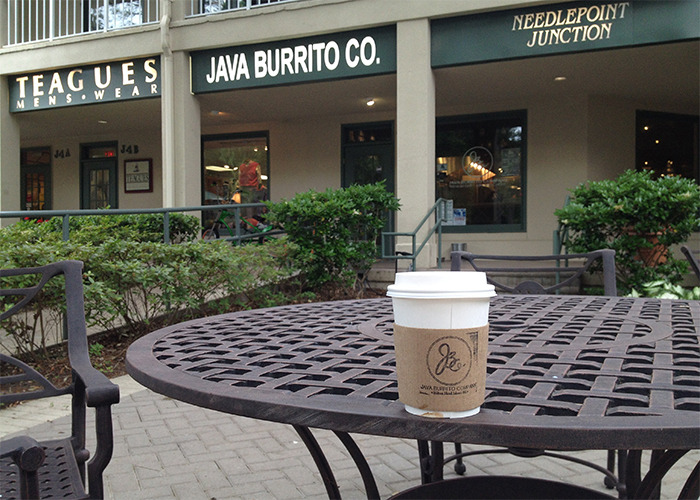 by Christy Baroni
You won't finish reading this because you will, at some point, put your phone down and head straight to Java Burrito. Located in the Village at Wexford, this shiny new bright spot on the restaurant scene needs to be on the top of your "Must Eat Here" list.
The owner, Michael, is a huge fan of athletes and wanted to offer a place for healthy AND fast service in an environment that is comforting. He nailed it! PR, Michael!
The atmosphere alone is refreshing. A coffee & tea bar located on the far wall just begs for you to try something new. They use locally roasted beans which means your purchase not only supports others in our local economy, but also means you get a fresher beverage. My personal favorite is the Chai Tea. As many of you know I limit my dairy intake so normally I don't order Chai Tea because it's made with milk. However, they offer soy milk AND almond milk so I can enjoy that cup of Chai with no 2nd thoughts. You can also use these alternatives to milk in your coffee too!
The goal of the menu is to offer locally grown/raised food choices, organic when possible. You choose your base (taco, salad, or burrito) then your protein, then add all the yummies to make a truly custom plate. This means you can eat according to your goals without having to ask for something on the side, or make an awkward request to deviate from the menu. My suggestion: don't skip the guacamole! Yes, it costs a little extra, but it is worth it! It's an easy and delicious way to get a healthy dose of dietary fat.
My favorite concoction is: salad as the base, chicken, double scoop of veggies, guac on top!
One of our goals here at CTF is to encourage you to eat according to your own personal goals. Java Burrito gives you a place to do that with your friends and gives you complete control of your menu. This nutritionista is all about that!
Check out their menu at www.javaburritoco.com.
Are you still reading? Go try some Java Burrito! Let me know what you think.
P.S. Did I mention they serve beer, wine, AND champagne? Ok, yeah. See you there!