It will make you bulky…
There's a misunderstanding in the endurance community that lifting heavy weights will leave us bulky and "over-muscled" for our sport. Racing weight is critical and being as "light" as possible is what makes someone fast. If this were true my athletes would be getting slower every week, but it seems the more they follow our structured FIRE Method the faster their times see to get. Absurd right? What are we doing that's so different? Lifting appropriate loads, heavier weights and of course clearing technique. In order to improve body composition "get tone" we have to lift weights. Above 50% of a persons 1 RM (rep max), which is the most weight someone can lift one time. Lifting heavy weight does not mean you will get bulky; it will actually make you look good (lean) and it's a secret weapon foreign to most Coaches training Endurance Athletes. We train strength to increase power and develop speed for the sport. It takes careful calculations, but when done correctly bolds on the amount of actual training time.
What If we told you that we could get you super tone, prevent injury, increase your speed in all three sports and decrease your training time; would you believe we're feeding you bullshit? That's all anyone wants anyways, look great and be able to race hard. For a lot us, race often. That's it right? Here's the deal, we can't "lean up" running mile after mile at a steady state intensity. It doesn't happen, and we're even more susceptible to getting slower and hurting our hearts. We're getting a little side tracked so back to the bulk discussion…
Concurrent Training – Training strength and endurance at the same time. This is what you're doing, strength and sport at the same time. The actual endurance sports themselves won't allow you to bulk up because you're blunting any sort of bulk, The Poliquin Group and researchers suggests that the endurance component of concurrent training provides an "atrophy" stimulus that blunts the muscle growth response in the muscles that are engaged in endurance exercise. Muscle growth is not inhibited in muscles that aren't performing repetitive training. For runners, we focus our attention on developing leg strength thru squat variations, deadlifts and posterior chain accessory work thinking always about the benefit to run itself.
Are you attempting to increase speed? Explosive power? The exercises we pick should have PURPOSE. Primarily glutes, hips and hamstrings should be the main targets. By spending more time lifting weights, coupled with proper run mechanics and anaerobic conditioning we'll develop a whole new gear to our endurance engine.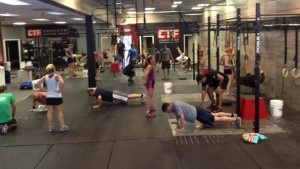 Weight training will leave you too sore for your sport…
Without a doubt it can. Testing concurrent strength with sport we've been there with athletes overdoing it. Can this not happen with simply running as well? The strength and sport balance can be quite difficult if inexperienced programming the two. It could leave the athlete fatigued for their run especially if recovery variables are not followed closely. Establishing the appropriate mix for athletes is key and this it all depends on their form, strength training age, endurance goals and of course time available to train. Individualization is critical.
As Jeff Gaudette of Runners Connect discusses in his Myths About Strength Training for Distance Runners article, we typically think of strength as an "add-on" to our endurance training. If this is already what we're thinking, we can very well bet that our strength training session will not be effectively planned into the weekly training schedule. It could even be executed poorly because it's not as "critical" to the actual training. What if we were to wrap our running around the strength training? What would happen then?
Pick two days a week that are solely focused on strength. If we prioritize what we do during these times and gear it towards our weaknesses exhibited by the athlete in race times and training big things can happen. If the athlete "needs" to do something else on these days, pick short duration intervals of the non-primary sport to complete 3+ hours later. The goal here is to properly recover so you can train the next day and not take away from the strength done earlier in the day. By separating and wrapping run sessions around the strength we can ensure that athletes get the recovery essential to performance. Note that when an athlete is new to this style of training it may shock the system at first, but 4-6 weeks later we typically start seeing the results.
The number of repetitions you perform is also a key factor. Prilepin's Chart is a phenomenal resource to help ease the ambiguity of planning. Strength training needs to be about the QUALITY and not HOW MANY REPETITIONS complete. Less is always more in most cases.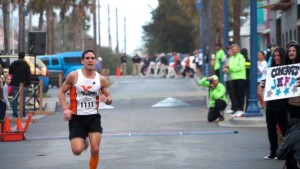 There's no research out there supporting it…
Whenever we have an opinion, we can always do two things, find research to support it or create our own program and test it regularly. That's why we don't have to get to crazy here and place too much emphasis on studies, but there's supporting information out there and people doing what we're talking about. Not many have actually followed such a protocol for a greater than 16week period or scholarly tested it to it's fullest, but that's not to say it doesn't work when done correctly. Brian Mackenzie of CrossFit Endurance has become the leader in strength and conditioning for endurance athletes. His program has revolutionized a different way of thinking about endurance training and he has plenty of resources to back it up. There are thousands of athletes out there following his program.
Below are a few studies for those who need them, all of which layout the benefits to running economy and prove the right mix of repetitions and type of strength training is key. Only time will tell if all this is for real, but if an elite goes "ALL IN" with strength and cuts some volume it would be pretty interesting…
Study #1
Concurrent Training in Elite Male Runners: The Influence of Strength Versus Muscular Endurance Training on Performance Outcomes.
All the groups improved regardless of the strength protocol yet the group that put a higher priority on strength and plyometric exercises improved their times. Remember the goal here is to not necessarily improve the ability to use oxygen, but to increase durability so that running is easier and the improved leg strength
Study #2
The effects of resistance training on endurance distance running performance among highly trained runners: a systematic review. (a2)
All of the studies found improvements in running economy. By implementing a strength protocol, exactly what we're after; efficiency and "less work" by building muscle in the appropriate groups without overdoing the actual activity.
Study #3
Strength Training in Endurance Runners
This last one interesting shows that maximal strength efforts (heavier loads) and explosive strength is more effective than high repetition circuit training in improving actual neuromuscular performance and VO2max.
As Runners we don't need weights. We need the right mix of weights to improve for our sport and to develop ideal body composition. When done correctly a structured strength and conditioning program coupled with proper endurance training is a lethal weapon that will save us time. Time that we can spend with loved ones. Time that a lot of us seem to be missing these days. At the end of the day, all we want is to look good and get faster right? Lift weights and it will happen.
SOURCES
A1
Concurrent Training in Elite Male Runners: The Influence of Strength Versus Muscular Endurance Training on Performance Outcomes
J Strength Cond Res. 2008 Nov;22(6):2036-44. doi: 10.1519/JSC.0b013e318185f2f0.
Yamamoto LM1, Lopez RM, Klau JF, Casa DJ, Kraemer WJ, Maresh CM.
1Human Performance Laboratory, Department of Kinesiology, Neag School of Education, University of Connecticut, Storrs, Connecticut, USA.
< http://www.ncbi.nlm.nih.gov/pubmed/23287831>
A2
The effects of resistance training on endurance distance running performance among highly trained runners: a systematic review.
J Strength Cond Res. 2008 Nov;22(6):2036-44. doi: 10.1519/JSC.0b013e318185f2f0.
Yamamoto LM1, Lopez RM, Klau JF, Casa DJ, Kraemer WJ, Maresh CM.
1Human Performance Laboratory, Department of Kinesiology, Neag School of Education, University of Connecticut, Storrs, Connecticut, USA.
<http://www.ncbi.nlm.nih.gov/pubmed/18978605>
A3
Strength training in endurance runners.
Int J Sports Med. 2010 Jul;31(7):468-76. doi: 10.1055/s-0029-1243639. Epub 2010 Apr 29.
Taipale RS1, Mikkola J, Nummela A, Vesterinen V, Capostagno B, Walker S, Gitonga D, Kraemer WJ, Häkkinen K.
<http://www.ncbi.nlm.nih.gov/pubmed/20432192>
A4
How to Train for Strength and Endurance at the Same Time
<http://www.poliquingroup.com/ArticlesMultimedia/Articles/Article/1054/How_To_Train_For_Strength_Endurance_At_The_Same_Ti.aspx>
A5
5 Myths About Strength Training, Jeff Gaudette
<http://runnersconnect.net/running-training-articles/myths-about-strength-training-for-distance-runners/>
A6
CrossFit Endurance, Brian Mackenzie
www.crossfitendurance.com